Okay. Today is gorgeous out. It is crazy mild& my back/ shoulders finally feel well enough to attempt a little run. Which is what I'm going to do. I already swam some laps. Go me! I'm so athletic& hardcore. Apart from my fitness, I also read books. I don't usually post about them on here but since I have been anxiously awaiting the arrival of these bad boys I figured I'd post to explain they have arrived! I have no idea what really happens in these books. I just know lots of people have highly recommended them to me& also that they are making them into a movie. I'll probably hate the movie. I almost
always
hate the movie.Regardless, I am super excited to spend the next few hours curled up with The Hunger Games& a snack (probably not a healthy one, either)! Since I foolishly bought all 3 books without having any idea if I'll like them ..here's hoping!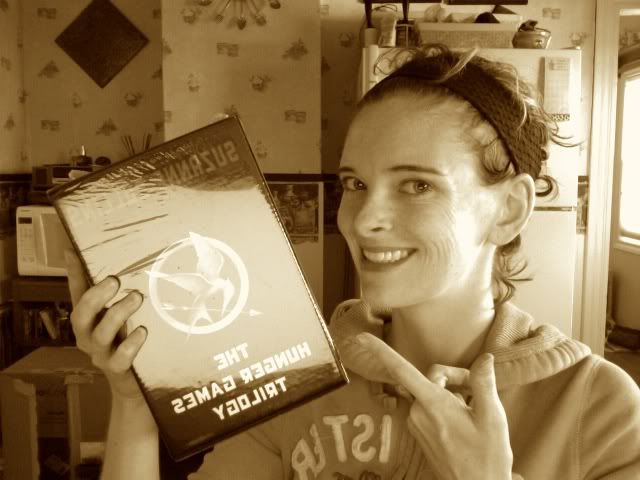 Yes, I know. I am a stunning natural beauty who looks best after swimming laps& becoming too lazy to do anything with myself. My gorgeous looks aside, has anyone else read these? What do you think ..was the trilogy worth it? I mean, I got an insane deal on it but I'll still be a little sad if they end up sucking. Think I'll like them? I loved Ender's Game& the others in that series but I hated Lord of the Rings with a passion. I think I made it to page 10.
Let me know what your opinion of The Hunger Games is, even if you haven't actually read them! I know I always have opinions on everything before I actually even put any effort in to learn about them ..I can't be the only one who does that, right?!